I love puzzle books and doing puzzles. I have tons of them lying around the house. There are also a few puzzle games on my phone or tablet I like to play so this definitely sounds really interesting to me. Do you do puzzles? If so, keep reading because if you like puzzles, I think you will like this too. Plus you also have a chance to win a Puzzle Pause Prize pack along with a $20 amazon gift card! Enter at the bottom of this post. Thanks in advance and good luck!
Puzzles are a great way to build critical thinking and problem solving skills + they have been scientifically proven to help with overall brain health and memory. If you haven't started working puzzles in your free time yet, I have a great excuse for you to start! There's a new way to do puzzles out there — a puzzle book that is interactive both on and off the page! Question: Did you know that you use a different part of your brain when you are reading from book on a page vs on your electronic device? Hummmm…. I wonder if that applies to puzzle solving too?
Initiation – An Interactive Puzzle Book
Initiation is an interactive mystery that combines the best of paper and screen. Packed with popular puzzles, coded messages, and twists and turns around every corner, this book promises hours of fun. The book is divided into five stages. In each stage you will solve puzzles, complete activities and gather keys that will unlock secret messages on a website. As you work through the puzzles you will be gathering clues to solve your first mystery. What makes this book unique is that anyone can do it. There is no answer key in the back of the book because you will know when you solved the puzzle correctly using the key check on the website — but don't worry, the creators are prepared to assist you if you need a little extra help along the way, or come across a puzzle you don't know how to solve.
Initiation – An Interactive Puzzle Book
Is NOW on Kickstarter!
Within an hour after launch this book is already almost completely funded on Kickstarter BUT they still need your help! Stretch goals are available with backer bonuses if they are reached — yes! I love getting a little bonus, how about you? Get your Initiation book on pre-order or checkout the sample pack pledge. TIP: Everyone who pledges $15 or more will receive access to a secret area on the website called The Vault. Learn more about The Vault and the interactive puzzle book Initiation by visiting them on Kickstarter!
Enter to Win a $20 Amazon Gift Card + PuzzlePause Prize Pack!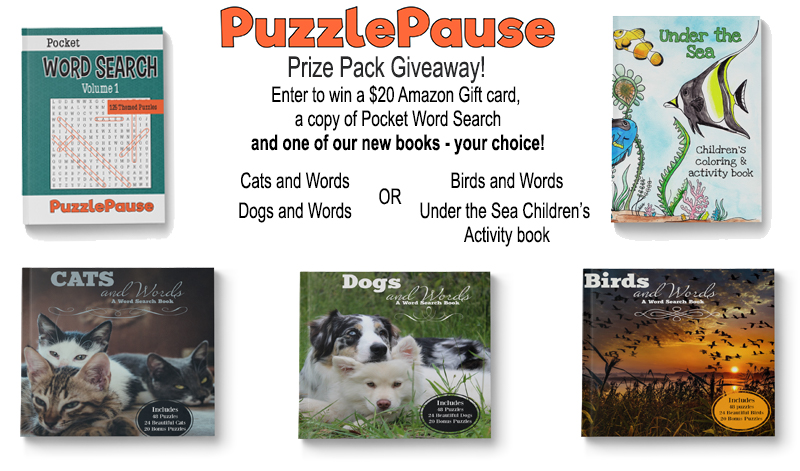 ENTER TO WIN
One lucky reader will win a $20 Amazon Gift Card +PuzzlePause Prize Pack
This giveaway is open to US Only, 18+
Ends 9/4 at 1159p est
Be sure to come back daily for more chances to win!
Mommy's Playbook Giveaway Rules: This giveaway is Sponsored by PuzzlePause and hosted by Mommy's Playbook. Winner will receive a $20 Amazon Gift Card + PuzzlePause Prize Pack! Victoria and/or Mommy's Playbook are not responsible for prize fulfillment. By entering this giveaway you are giving the giveaway host and/or event sponsor permission to retain your email address for future communication, you may choose to opt-out of such communications at any time. Please contact Victoria (at) MommysPlaybook.com regarding any questions you have pertaining to this giveaway.
Disclaimer: This is not a DustinNikki Mommy of Three giveaway. We are only helping to promote this giveaway. All questions should be directed to the hosting blog as mentioned above.