Have you ever heard of the THiNK OUTSiDE subscription boxes before? I recently just heard of them and think they are a really great idea. My family loves being outside in the spring and summer. We spend a lot of time hiking and enjoying nature. It's important to get the kids outside and explore and ours love it. The first box comes with a back pack which is pretty cool. But each box comes with outdoor gear and a few other things including outdoor challenges. Overall, this box makes enjoying the outdoors fun for the whole family. Keep reading for more information!
THiNK OUTSiDE Boxes are a monthly subscription service focused on outdoor exploration AND a year-long curriculum. The service provides quality, useful gear along with very thoughtful activities and educational information that encourage kids to get outside and play. It is not just about the gear or the information, but using both in tandem to become more skilled in outdoor life, while encouraging family involvement. The monthly themed boxes promote character building while instilling confidence, independence, and empathy.
FACT: Today's children are spending an average of 4-7 MINUTES
of unstructured play outside, and 7.5 HOURS in front of devices!
THiNK OUTSiDE is a 2019 Parent's Choice Silver Award recipient!
What's Inside THiNK OUTSiDE Boxes? Throughout the year, each themed monthly box includes outdoor gear, water-resistant resource cards, a 20+ page educational & activity booklet. Also included is an outdoor challenge to do as a family. Your first box comes with a lightweight packable daypack. You choose your color (Orange, Blue, or Magenta)!
EDUCATIONAL RESOURCES!!
THiNK OUTSiDE boxes foster a learning experience that encourages critical and strategic thinking, creativity, and outdoor life skills. The Hands-on lessons are everything a homeschool family could hope for when teaching/learning STEM. AND they even offer curriculum resources to accompany their boxes too! Visit THiNK OUTSiDE to preview the seasonally appropriate lesson plans.
Visit THiNK OUTSiDE to learn more and subscribe today!
Use the Code
10OFF

to receive $10 Off Your Into Box!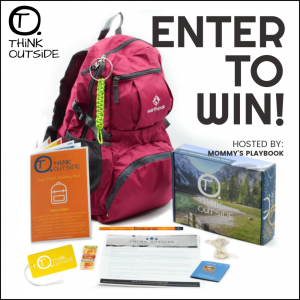 ENTER TO WIN!
a Quarterly Subscription to THiNK OUTSiDE!
The giveaway is open US Only, 18+
The giveaway ends 5/10 at 1159 pm est
Be sure to come back daily for more chances to win.
Mommy's Playbook Giveaway Rules: This giveaway is Sponsored by THiNK OUTSiDE and hosted by Mommy's Playbook. Victoria and/or Mommy's Playbook, Participating bloggers, are not responsible for prize fulfillment. By entering this giveaway you are giving the giveaway host and/or event sponsor permission to retain your email address for future communication. You may choose to opt-out of such communications at any time. This giveaway is not sponsored or endorsed by any social media outlet including, but not limited to, Facebook, Instagram, Twitter, and Pinterest. Please contact Victoria (at) MommysPlaybook.com regarding any questions you have pertaining to this giveaway.
This is not a DustinNikki Mommy of Three giveaway. We are only helping to promote this giveaway and in exchange received a free link/entry on the giveaway form. All questions should be directed to the hosting blog as mentioned above.