I like Superior Source Vitamin Supplements. There are a few reasons why. Firstly, they have an "under the tongue technology. Therefore, there are no pills to swallow. This especially comes in handy if there are any vitamins your kids take. Secondly, Superior Source Vitamin Supplements dissolve really quickly. Lastly, because they are not supplements that are swallowed, they are absorbed into the body quickly. Check out the awesome deals and offers below. And of course, don't forget to enter for your chance to win!
~~~~~~
Time to gear up to a healthy school year for your children with Microlingual® tablets from Superior Source! Your kids will enjoy taking Superior Source Vitamins because there are NO PILLS TO SWALLOW! With over 180 vitamins, there are vitamins for everyone, young old and every need. Best of all, Superior Source Vitamins are MicroLingual® with "Under the Tongue Technology" that works fast. Therefore they are quickly absorbed into the body, dissolving in seconds. Did you know that by swallowing supplements, as much as 50% of the potency is lost in the high acid environment of the stomach?
What Makes Superior Source Vitamins Unique?
With Superior Source Vitamins, there are no pills to swallow because SSV dissolve in seconds! In addition, they are GMO FREE and Sugar FREE, and 90% smaller than regular vitamins. NO binders, fillers, dyes or preservatives, created from only 3 clean ingredients, AND over 180 vitamins to choose from!
ENTER TO WIN a Superior Source Vitamins 6-Pack ($60 Value) on the easy giveaway form below. One lucky winner will receive a prize package that includes the following:
Children's Vitamin D
Children's Vitamin B
Iron (Children's)
Vitamin C
Melatonin
Biotin
FREE Vitamin B-12 – 60-Day Supply – 1,000 mcg (only pay $3.95 S&H)
FREE Vitamin D – Any D product (baby, child, adult) (only pay $4.95 S&H)
BOGO – FREE Vitamin C (Sour Cherry or Tangy Orange) – 500 mg – Buy One Get One Free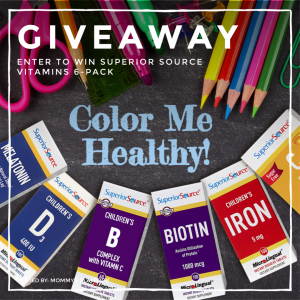 ENTER TO WIN!
One Winner Will Receive a
Superior Source Vitamins 6-Pack: ($60 Value)
The giveaway is open US Only, 18+
The giveaway ends 8/27 at 1159 pm est
Be sure to come back daily for more chances to win.
Mommy's Playbook Giveaway Rules: This giveaway is Sponsored by Superior Source Vitamins and hosted by Mommy's Playbook. Victoria and/or Mommy's Playbook, participating bloggers are not responsible for prize fulfillment. By entering this giveaway you are giving the giveaway host and/or event sponsor permission to retain your email address for future communication. You may choose to opt-out of such communications at any time. This giveaway is not sponsored or endorsed by any social media outlet including, but not limited to, Facebook, Instagram, Twitter, and Pinterest. Please contact Victoria (at) MommysPlaybook.com regarding any questions you have pertaining to this giveaway.
This is not a DustinNikki Mommy of Three giveaway. However, I am helping to promote this giveaway in exchange for a free link/entry on the Giveaway form. All questions should be directed to the hosting blog as mentioned above. If you are interested in working with DustinNikki Mommy of Three on a review and or giveaway or other collaboration, please email Nicole at [email protected]