Defense Soap is really great. My husband swears by it. He uses it all the time. I happen to like it too. It contains an anti-fungal agent. They also have a medicated bar soap as well. I like it because it's gentle on my skin. In addition, I have never never had a problem with it drying my skin out either. Another thing that I love about it is that Defense Soap is great for the whole family. Therefore they are great for not only athletes, but also men, women. And because it is so gentle, it's even safe for baby.
~~~~~~~~~~~~~~
Defense Soap® bar soaps, body wipes, shave soaps, foaming hand soap, healing salve, foot cleaning solution, equipment spray AND shower gels contain two of nature's most potent natural essential oils. Pharmaceutical grade tea tree and eucalyptus essential oils. Meaning, what makes Defense Soap® great isn't some radically modified ingredient. Or rather, lab generated additive that you can't pronounce, let alone, understand its contents!
Defense Soap® is all-natural soap with no harsh chemicals, triclosan, parabens, sulfates, or dyes AND made in the USA! Their products are safe for all ages and gentle enough for everyday use. Defense Soap® is great for preventing skin ailments and infections. After all, that's what it was designed for. Defense Soap® was originally created for youth wrestlers to prevent skin infections!
New soft pack uses 60% less plastic with innovative and award-winning
Aeroflexx technology, developed by Procter & Gamble
ENTER TO WIN! Two lucky winners will receive a Defense Soap® Gift Basket! Each basket will contain:
3 Bar Soap Set (1 original bar soap, 1 peppermint bar soap, 1 natural oatmeal bar soap)
Original Shower Gel Soft Pack (1)
Original Body Wipes (1)
Baby Wash and Shampoo (1)
Peppermint Foaming Face & Hand Soap (1)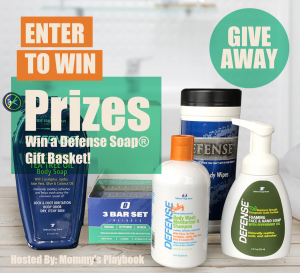 ENTER TO WIN!
TWO Winners Will Receive an Defense Soap® Gift Basket
The giveaway is open US Only, 18+
The giveaway ends 10/30 at 1159 pm est
Be sure to come back daily for more chances to win.
Mommy's Playbook Giveaway Rules:
This giveaway is Sponsored by Defense Soap® and hosted by Mommy's Playbook. Victoria and/or Mommy's Playbook and participating bloggers are not responsible for prize fulfillment. By entering this giveaway you are giving the giveaway host and/or event sponsor permission to retain your email address for future communication. You may choose to opt-out of such communications at any time. This giveaway is not sponsored or endorsed by any social media outlet including, but not limited to, Facebook, Instagram, Twitter, and Pinterest. Please contact Victoria (at) MommysPlaybook.com regarding any questions you have pertaining to this giveaway.
Additional Disclaimer: Information about Defense Soap® products is not a substitute for professional medical advice. The natural active ingredients are known remedies but are not intended to diagnose or treat diseases. If you have or suspect you have a medical problem, promptly contact your professional healthcare provider. Statements and information regarding these natural ingredients have not been evaluated or approved by the Food and Drug Administration. Please consult your healthcare provider before beginning any course of treatment.
Disclosure
This is not a DustinNikki Mommy of Three giveaway. However, I am helping to promote this giveaway in exchange for a free link/entry on the Giveaway form. All questions should be directed to the hosting blog as mentioned above. If you are interested in working with DustinNikki Mommy of Three on a review and or giveaway or other collaboration, please email Nicole at [email protected]